Pork Tenderloin Tacos
Made with Flour Tortillas
Durango
4 servings
Difficulty: Moderate
0 mins
Made with Flour Tortillas
Difficulty: Moderate
4 servings
0 mins
made with: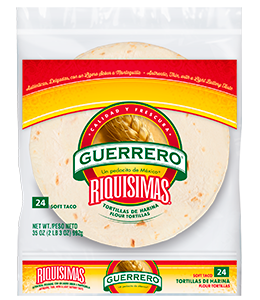 where to buy
Ingredients:
8 Guerrero Flour Tortillas
2 chopped garlic cloves
1 tsp. of oregano
1/2 cup of orange juice
1 tbsp. of oil
6 semi-flattened pork tenderloin medallions
2 medium pieces of chorizo (4 ounces each)
1/2 avocado chopped in cubes
2 tsp. of green onion
4 tsp. of crumbled blue cheese
how to make it:
1. Mix garlic, oregano, orange juice and oil in a bowl. Marinate pork tenderloin medallions in bowl for 10 minutes. Cook chorizo in a skillet over medium heat, remove and chop finely.
2. In same skillet, sear both sides of pork medallions over high heat. Cover skillet, reduce to medium heat and finish cooking.
3. Once cooked, chop pork in small cubes. Warm Guerrero ® Flour Tortillas on a hot plate or skillet.
4. Put equal portions of chorizo and pork in the tortillas and top with green onion, blue cheese and avocado.
Tip:
Marinate the meat a day prior to cooking the dish to enhance the meat's flavor.
Otherrecipesyou might like