Fish Enchiladas with Creamy Tomatillo Sauce
Made with Riquisimas Soft Taco Flour Tortillas
Campeche
6 servings
Difficulty: Moderate
50 mins
Made with Riquisimas Soft Taco Flour Tortillas
Difficulty: Moderate
6 servings
50 mins
made with: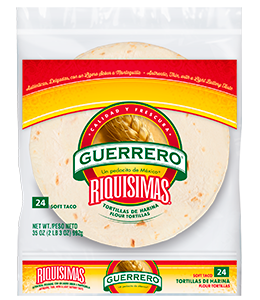 Ingredients:
8 Guerrero Riquisimas Flour Tortillas
1 1/2 lbs. White fish fillets, such as cod, tilapia, or snapper
2 tbsp. Vegetable oil, divided
1 tsp. Ground cumin
1 tsp. Ground red chile powder, ancho or guajillo
1 tsp. Salt, divided
1 Medium onion, thinly sliced
1 Red bell pepper, thinly sliced
1 jar (12 oz.) Thick tomatillo salsa
1/3 cup Crema or sour cream
1 cup (4 oz.) Shredded queso fresco or queso Oaxaca
how to make it:
1. Preheat the broiler. Lightly oil a baking sheet and place fish on it. Rub with 1 tbsp. vegetable oil, cumin, chile powder, and ½ tsp. salt. Broil until fish is cooked through, 5-8 minutes depending on thickness.
2. Meanwhile, heat remaining 1 tbsp. vegetable oil in a large skillet over medium heat. Add onion, pepper, and ½ tsp. salt. Cook, stirring until softened, 6-8 minutes. Set aside.
3. In a medium bowl stir together tomatillo salsa and crema. Set aside.
4. Lightly oil a 13 x 9" baking dish. Reduce oven temperature to 375℉.
5. Lay tortillas on a work surface and place fish and vegetables in the center of tortillas. Roll up tortillas and place seam side down in baking dish. Top with tomatillo mixture and sprinkle with cheese. Bake until heated through and cheese is melted, about 15 minutes.
Otherrecipesyou might like