Enchiladas Verdes
Did you know that ... It is believed that Swiss enchiladas (usually green enchiladas) arose in a restaurant in Mexico City, where a Swiss frequently went to eat enchiladas, but could not stand the spice, so to reduce its heat, they added gratin cheese
Mexico City
6 servings
Difficulty: Moderate
20 mins
Did you know that ... It is believed that Swiss enchiladas (usually green enchiladas) arose in a restaurant in Mexico City, where a Swiss frequently went to eat enchiladas, but could not stand the spice, so to reduce its heat, they added gratin cheese
Difficulty: Moderate
6 servings
20 mins
made with: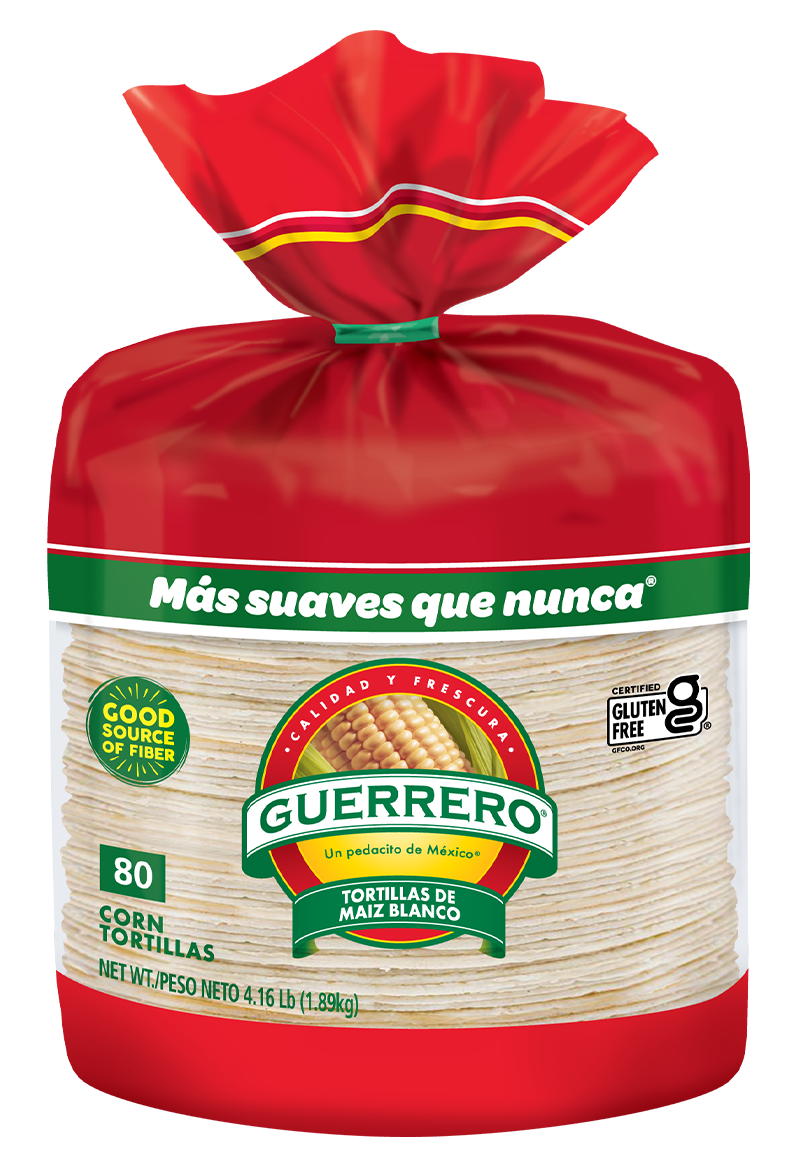 Ingredients:
12 Guerrero Corn Tortillas
1 whole chicken breast, about 12 oz (375 g), cooked and shredded
1 1/2 cups chicken stock
2 cloves garlic
1 small onion
Salt to taste
2-4 Serrano chiles
2 lbs (1kg) green tomatillos, husks removed
1/2 cup coarsely chopped cilantro
1 Tbsp oil
Oil for frying
1/2 cup thick cream (optional)
1/2 cup crumbled feta cheese (optional)
how to make it:
1. Add 2 cloves garlic and the chiles to a saucepan of boiling water. After 5 minutes, add the tomatoes verdes and cook another 7 minutes. Drain.
2. In a blender, puree the tomatoes verdes with the garlic, chiles, and onion quarter. Add the cilantro, and process briefly so that the cilantro is not ground too finely. Add 1 cup of the reserved chicken stock.
3. Heat the oil in a small skillet and sauté the pureed tomatoes verdes in it. Add 1 teaspoon salt. Lower the heat and cook uncovered for 10 minutes. If the sauce is too thick, add another ½ cup stock.
4. Heat ½ of the sauce in oil in a skillet and fry the tortillas until they just begin to soften, approximately 10 seconds on each side.
5. Immerse each tortilla in the warm sauce, and then transfer to a plate. Place some chicken in the center of each tortilla, roll up, and arrange on a platter. Spoon the warm sauce over the enchiladas, garnish with the sliced onion, and add cream and feta cheese if you wish.
Otherrecipesyou might like