Picadillo Tacos with Tomatillo Salsa
With Homemade Flour Tortillas
Aguascalientes
5 servings
Difficulty: Moderate
30 mins
With Homemade Flour Tortillas
Difficulty: Moderate
5 servings
30 mins
made with: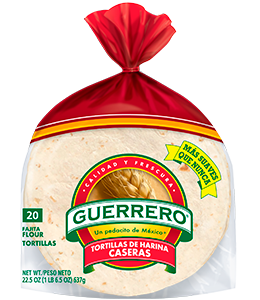 Ingredients:
10 Guerrero Tortillas Caseras, warmed
1 lb. Ground beef
8 oz. Fresh chorizo
1 Medium onion, chopped
2 Garlic cloves, minced
1 can (14 oz.) diced tomatoes
1 tsp. Cumin
1 tsp. Coriander
1 tsp. Dried oregano
1 tsp. Salt
1 tbsp. Ground red chile powder, such as guajillo or ancho
1 cup Prepared tomatillo salsa
Finely chopped onion
Chopped cilantro
how to make it:
1. In a large skillet over medium heat, cook beef and chorizo. Break up meat with a spoon, until browned, about 10 minutes. Transfer meat to a paper towel-lined plate to drain and discard all but 2 tablespoons of fat in the skillet.
2. Add onion and garlic to skillet and cook, stirring until softened, about 5 minutes. Stir in tomatoes, cumin, coriander, oregano, chile powder, and salt along with cooked meat. Bring to a simmer and cook 10 minutes to allow flavors to meld.
3. Serve meat in tortillas with tomatillo salsa. Top with onion and cilantro.
Otherrecipesyou might like