Chicken Fajitas
Made with Riquisimas Soft Taco Flour Tortillas
State of Mexico
6 servings
Difficulty: Moderate
0 mins
Made with Riquisimas Soft Taco Flour Tortillas
Difficulty: Moderate
6 servings
0 mins
made with: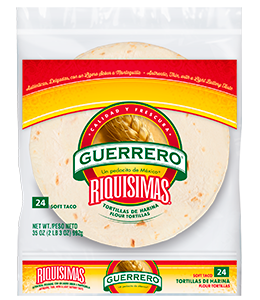 Ingredients:
12 Guerrero Flour Tortillas
4 chicken breasts
2 Tbsp olive oil
2 Tbsp fresh lemon juice
1/2 tsp each salt, black pepper, cumin
1 cup shredded cheese (cheddar or Colby)
2 cups shredded lettuce
1 cup diced tomatoes
1/2 cup sour cream
1/2 cup green onions, sliced
1/4 cup cilantro
1 bell pepper, sliced
1 onion, sliced
how to make it:
1. Combine oil, lemon juice, salt, pepper, and cumin in a shallow dish.
2. Add chicken and marinate in the refrigerator for 30 to 45 minutes.
3. Grill chicken until cooked, turning occasionally, adding onions and bell pepper. Slice chicken diagonally.
4. Heat tortillas and let everyone fill with chicken and the other ingredients.
Otherrecipesyou might like