Lobster Crepes
Made with Riquisimas Soft Taco Flour Tortillas
Baja California
12 servings
Difficulty: Moderate
0 mins
Made with Riquisimas Soft Taco Flour Tortillas
Difficulty: Moderate
12 servings
0 mins
made with: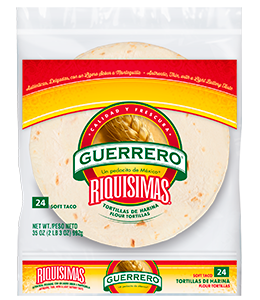 Ingredients:
24 Guerrero Flour Tortillas
2 cups pine nuts
1 cup thick cream
1 cup chicken broth
3 anchos chiles, toasted, seeds and membranes removed, then soaked
6 Tbsp butter
2 Tbsp oil
1 onion, finely chopped
3 poblano chiles, roasted, peeled, seeds and membranes removed, and diced
8 oz cooked lobster meat, flaked
Salt and fresh ground pepper
1 1/3 cups grated parmesan cheese
how to make it:
1. Preheat the over to 350º F. To make the sauce, place half of the pine nuts in a blender, add the cream and anchos chiles, and puree. Set aside.
2. Heat the butter and oil in a skillet; add the onion and sauté until transparent. Add the poblano chiles, lobster, and remaining pine nuts. Stir, add salt and pepper to taste. Let cool and allow the flavors to blend.
3. Fill the tortillas with this mixture, roll up, and arrange in a greased baking dish. Cover with the reserved sauce and sprinkle the top with Parmesan cheese and diced roasted poblano peppers. Bake for 15 minutes.
Otherrecipesyou might like