Watermelon Ceviche Tostadas
Made with Tajin Tostadas
Quintana Roo
6 servings
Difficulty: Easy
20 mins
Made with Tajin Tostadas
Difficulty: Easy
6 servings
20 mins
made with: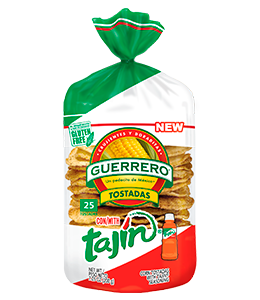 Ingredients:
12 Guerrero Tajin Tostadas
1 lb fresh, firm, mild-flavored white-fleshed fish, cut into 1/2-inch cubes
1 3/4 cups lime juice (approx), divided
2 cups diced watermelon
1/3 cup diced red onion
1/4 cup orange juice
1 jalapeño pepper, seeded and diced
2 tbsp finely chopped fresh cilantro
1/2 tsp sea salt
2 tsp tajin seasoning
Lime wedges, for serving
how to make it:
1. In 1 1/2-quart glass or stainless-steel bowl, combine fish and 1 1/2 cups lime juice (add more lime juice, if needed, to cover fish and allow it to float freely; this will ensure that the fish "cooks" evenly throughout). Cover and refrigerate for 3 to 3 1/2 hours or until fish becomes opaque right through to center and slightly firm. Drain in colander.
2. Stir together watermelon, red onion, orange juice, jalapeño, cilantro, salt and remaining 1/4 cup lime juice; add fish, tossing until well combined.
3. Serve ceviche over tostadas. Sprinkle with tajin seasoning. Serve with lime wedges.
Tips:
• Snapper, sole, halibut or grouper all work well in this recipe.
• If desired, substitute 1/4 cup tequila for 1/4 cup of the lime juice.
Otherrecipesyou might like