Cajeta Tortillas
Made with Flour Tortillas
Guanajuato
6 servings
Difficulty: Easy
0 mins
Made with Flour Tortillas
Difficulty: Easy
6 servings
0 mins
made with: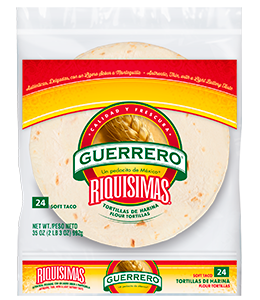 Ingredients:
Sauce:
1/2 cup Cajeta sauce (if unavailable may use Dulce de Leche or Caramel sauce)
2 tablespoons whipping cream
1 tablespoon dark rum
6 Guerrero Flour Tortillas
3 teaspoons butter, softened
3 cups vanilla ice cream (or cinnamon ice cream)
1/3 cup sliced almonds, toasted
how to make it:
1. In small saucepan, over medium heat, stir together Cajeta sauce and whipping cream until blended (2 to 3 minutes); stir in rum. Set aside.
2. Meanwhile, in 8-inch skillet over medium heat, melt ½ teaspoon butter. Lightly toast both sides of one tortilla in skillet, then set aside. Repeat with remaining tortillas and butter.
3. To serve: Spread 1 teaspoon Cajeta sauce over one side of tortilla, fold in half and spread additional Cajeta sauce on half of tortilla. Fold over again so a triangle is formed and spread with additional Cajeta sauce. Place a scoop of ice cream on tortilla, sprinkle with almonds, and drizzle with additional Cajeta sauce. Repeat with remaining tortillas and sauce.
Otherrecipesyou might like