Slow Cooker Chicken Mole Tacos
Made with Riquísimas Soft Taco Flour Tortillas
Oaxaca
6 servings
Difficulty: Hard
359 mins
Made with Riquísimas Soft Taco Flour Tortillas
Difficulty: Hard
6 servings
359 mins
made with: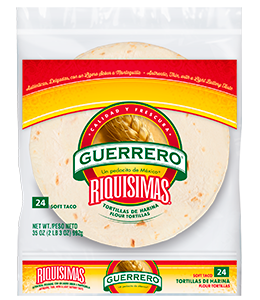 where to buy
Ingredients:
8 Guerrero Riquisimas Tortillas, warmed
3 lbs. boneless skinless chicken thighs
4 Roma tomatoes, halved
1 Medium onion, cut into quarters
4 Dried ancho chiles, stemmed and seeded
6 Garlic cloves, peeled
1/3 cup Toasted sesame seeds
4 Chipotles in adobo sauce
3 tbsp. Cocoa powder
2 tsp. Salt
1 tsp. Black pepper
1 tsp. Cumin
1/2 tsp. Cinnamon
1/2 tsp. cloves
1 Bunch radishes, thinly sliced
Chopped cilantro
how to make it:
1. Preheat the broiler. Line a baking sheet with foil.
2. Place tomatoes, onion, chiles, and garlic on baking sheet. Broil until all ingredients are toasted. Chiles will be ready first, after about 1 minute. Remaining ingredients will take about 10 minutes to blacken. Transfer tomatoes, onion, chiles, and garlic to a blender.
3. In blender add sesame seeds, chipotles, cocoa powder, salt, pepper, cumin, cinnamon, cloves, and ½ cup water and blend until smooth. Pour into a slow cooker.
4. Place chicken in slow cooker and turn to coat in mole. Cover and cook on low until chicken is cooked through, 4-5 hours. Transfer chicken to a cutting board and shred with 2 forks. Toss chicken in mole sauce.
5. Serve chicken with tortillas and top with radishes and cilantro.
Otherrecipesyou might like