Mexican Tostadas
Made with Tostadas
Tamaulipas
10 servings
Difficulty: Easy
0 mins
Made with Tostadas
Difficulty: Easy
10 servings
0 mins
made with: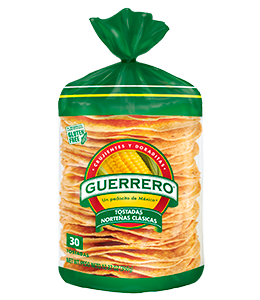 Ingredients:
10 Guerrero Tostadas Norteñas
Green sauce
1 cup refried beans
1 head of romaine lettuce
4 pieces of chorizo, fried and chopped
10 slices of tomato and avocado
Sour cream
Grated Cheese
how to make it:
1. Spread beans on Guerrero® Tostada Norteñas.
2. Layer with sauce, lettuce, chorizo, tomato, and avocado.
3. Top with sour cream and cheese. Add salt and pepper to taste.
Otherrecipesyou might like