Pork Loin Quesadillas
Made with Flour Tortillas
Sonora
8 servings
Difficulty: Moderate
0 mins
Made with Flour Tortillas
Difficulty: Moderate
8 servings
0 mins
made with: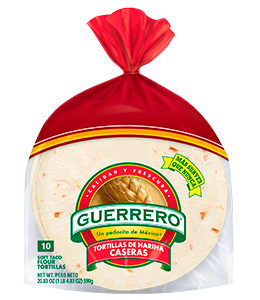 Ingredients:
8 Guerrero Flour Tortillas
1/4 kg cooked pork loin, shredded
2 chorizos, 3 to 6 ounces
1 potato, peeled/cooked and cubed
1 tomato
1 onion, chopped
1 clove garlic, chopped
2 jalapeno chiles, chopped
Your favorite cheese
Butter
how to make it:
1. Roast and peel tomato. Process in blender with onion and garlic. Sauté chorizos and pork loin.
2. Add cubed potatoes, and chiles. Add tomato mixture and heat through.
3. Fill Guerrero Flour Tortillas with the meat and cheese.
4. Fold and sauté in butter until cheese melts.
Tip:
To enhance dish, add some oregano to the salsa to give it more aroma.
Otherrecipesyou might like