Caramel Apple Cups
Made with Flour Tortillas
Chihuahua
6 servings
Difficulty: Moderate
0 mins
Made with Flour Tortillas
Difficulty: Moderate
6 servings
0 mins
made with: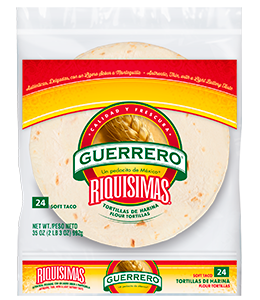 where to buy
Ingredients:
Spice Mixture:
2 teaspoons ground cinnamon
1/2 teaspoon ground allspice
1/2 teaspoon ground ginger
6 Guerrero Flour Tortillas
1 tablespoon butter, melted
3 cups vanilla ice cream
2 green apples, cored, cut into ¼-inch slices
1/2 cup caramel sauce
how to make it:
1. Heat oven to 400 F. In small custard cup stir together spices; set aside.
2. Lightly brush both sides of a tortilla with melted butter then sprinkle with ½ teaspoon spice mixture. Repeat with remaining tortillas.
3. Place 6 oven safe small canning jars, custard cups, or bowls on a cookie sheet. Place tortillas over the jars or custard cups or inside the bowls. Bake until lightly browned (8 to 10 minutes). For best results, rotate cookie sheet half way when there are 5 minutes left. Cool for 5 minutes, then remove tortilla bowls from jars or bowls; cool completely.
4. To serve: Place tortilla bowl on a plate, scoop in ½ cup ice cream, place 4 or 5 apple slices around ice cream inside bowl, and drizzle with about 1 tablespoon caramel sauce. Repeat with remaining tortilla bowls.
Otherrecipesyou might like