Pork Kabobs
Made with Caseras Soft Taco Flour Tortillas
Puebla
10 servings
Difficulty: Moderate
0 mins
Made with Caseras Soft Taco Flour Tortillas
Difficulty: Moderate
10 servings
0 mins
made with: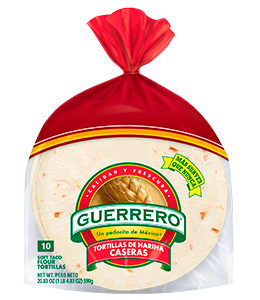 Ingredients:
10 Guerrero Flour Tortillas
2 oz. Ancho Chile
1/2 Cup White Vinegar
2 Cloves of garlic
1/4 piece of onion
1 Lb. pork, diced
1 Cup pineapple, diced
1 Red bell pepper, diced
20 Cambray green onions
1/4 Cup olive oil
2 Tablespoons salt
1/2 Cup jalapeno chile
how to make it:
1. In a small skillet, fry the ancho chile, garlic and onion.
Then blend it in a blender with white vinegar, olive oil and salt.
2. Marinate meat in marinade for 20 minutes. Assemble skewers in meat pineapple, bell pepper, green onions and jalapeno chile order and place on hot grill.
3. Occasionally brush marinade on skewers for added flavor.
4. Heat Tortillas de Harina Guerrero Caseras. To serve, wrap tortillas around grilled skewers and serve as tacos.
Tip:
Brush marinade on warm tortillas and serve with grilled onions.
Otherrecipesyou might like