Crispy Fish Tacos with Mango Salsa
Made with Casera Fajita Flour Tortillas
Baja California Sur
4 servings
Difficulty: Moderate
35 mins
Made with Casera Fajita Flour Tortillas
Difficulty: Moderate
4 servings
35 mins
made with: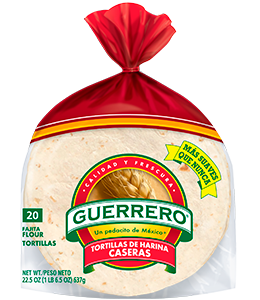 Ingredients:
8 Guerrero Flour Tortillas, warmed
1 Large mango, peeled, pitted, and diced
1 Large avocado, pitted and diced
1 Habanero, minced
1 Garlic clove, minced
3 tbsp. Lime juice
1/2 cup All-purpose flour
1 tbsp. Chili powder
1 tsp. Salt, divided
1/4 cup Vegetable oil
2 1/2 lbs. White fish fillets, such as cod, tilapia, or snapper
Chopped cilantro, for serving
how to make it:
1. In a medium bowl stir together mango, avocado, habanero, garlic, lime juice, and ½ tsp. salt. Set aside.
2. On a plate stir together flour, chili powder, and ½ tsp. salt. In a heavy skillet heat oil over medium. Dredge fish in flour mixture and place in skillet.
3. Cook until golden brown and cooked through, 2-3 minutes per side. Transfer to a paper towel-lined plate to drain.
4. Serve fish and mango salsa with tortillas, and garnish with cilantro.
Otherrecipesyou might like