Taquitos de Pollo
Hecho con Tortillas de Maíz Blanco
Estado de México
6 servings
Difficulty: Fácil
0 mins
Hecho con Tortillas de Maíz Blanco
Difficulty: Fácil
6 servings
0 mins
made with: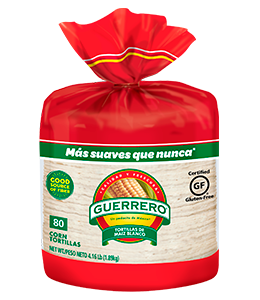 where to buy
Ingredients:
12 Tortillas de Maíz Blanco Guerrero
2 pechugas de pollo
3 jitomates
1 cebolla cortada en cubos
Chiles serranos al gusto
Manteca o aceite vegetal
Sal y pimienta
how to make it:
1. Hierve el pollo en agua con sal; desmenúzalo.
2. Agrega un poco de pollo desmenuzado en cada tortilla y enróllala para formar un taquito. Atraviesa cada taquito con un palillo de dientes y fríe en manteca o aceite vegetal.
Salsa:
Asa los chiles y los jitomates y luego córtalos en cubos.
Sofríe la cebolla en dos cucharadas de manteca. Agrega los chiles y jitomates cortados. Sazona con sal y pimienta.
Cocina la salsa a fuego lento hasta que el sabor se haya intensificado y la salsa se haya espesado. Viértela sobre los taquitos.
Otherrecipesyou might like