Brochetas de Cerdo Marinadas en Chile Ancho
Hecho con Tortillas de Harina Caseras
Puebla
10 servings
Difficulty: Moderada
0 mins
Hecho con Tortillas de Harina Caseras
Difficulty: Moderada
10 servings
0 mins
made with: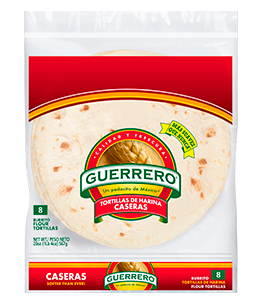 where to buy
Ingredients:
10 Tortillas Caseras de Harina Guerrero
2 oz de chile ancho
1/2 taza de vinagre blanco
2 dientes de ajo
1/4 de una cebolla
1 lb de carne de cerdo cortada en cubos
1 taza de piña cortada en cubos
1 chile morrón rojo, cortado en cubos
20 cebollas verdes Cambray
1/4 taza de aceite de oliva
2 cdas. de sal
1/2 taza de chile jalapeño
how to make it:
1. En una sartén pequeña, fríe el chile ancho, el ajo y la cebolla.
Vierte este sofrito en una licuadora con el vinagre blanco, el aceite de oliva y la sal.
2. Marina la carne por 20 minutos. Ensarta la carne, la piña, el chile morrón, los jalapeños y las cebollas Cambray en los alambres y colócalos en la parrilla.
3. Unta las brochetas con la marinada de vez en cuando para acentuar el sabor.
4. Calienta las Tortillas Caseras de Harina Guerrero. Envuelve las brochetas con las tortillas y sírvelas como tacos.
Sugerencia:
Unta la marinada en las tortillas tibias y sirve con cebollas asadas.
Otherrecipesyou might like