Tacos Crujientes de Pescado con Salsa de Mango
Hecho con Tortillas de Harina Caseras
Baja California Sur
4 servings
Difficulty: Moderada
35 mins
Hecho con Tortillas de Harina Caseras
Difficulty: Moderada
4 servings
35 mins
made with: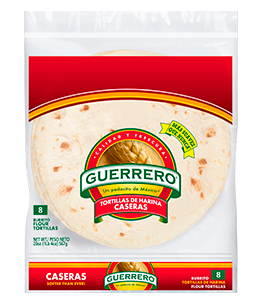 where to buy
Ingredients:
8 Tortillas de Harina Guerrero, calentadas
1 mango grande pelado, deshuesado y cortado en cubos
1 aguacate grande deshuesado y cortado en cubos
1 chile habanero picado
1 diente de ajo, picado
3 cdas. de jugo de limón
1/2 taza de harina común para todo uso
1 cda. de chile en polvo
1 cdta. de sal, dividida
1/4 de taza de aceite vegetal
2 1/2 lb de filetes de pescado blanco como bacalao, tilapia o pargo
Cilantro picado para servir
how to make it:
1. En un tazón mediano, mezcla el mango, el aguacate, el chile habanero, el ajo, el jugo de limón y 1/2 cdta. de sal. Reserva para después.
2. En una bandeja, mezcla la harina, el chile en polvo y 1/2 cdta. de sal. Calienta el aceite a fuego medio en una sartén grande. Pasa el pescado por la mezcla de harina y coloca en la sartén.
3. Cocina bien, unos 2 o 3 minutos por cada lado, hasta que los filetes queden dorados. Absorbe el exceso de grasa en una charola con toallas de papel.
4. Sirve el pescado y la salsa de mango sobre las tortillas y adorna con cilantro.
Otherrecipesyou might like