Enchiladas Rojas
Hecho con tortillas de Maíz Blanco
San Luis Potosí
6 servings
Difficulty: Moderada
0 mins
Hecho con tortillas de Maíz Blanco
Difficulty: Moderada
6 servings
0 mins
made with: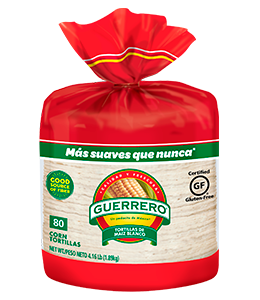 where to buy
Ingredients:
18 Tortillas de Maíz Guerrero
6 chiles guajillos o pasillas
3 jitomates
1/4 de una cebolla
2 dientes de ajo
2 ramitas de mejorana
1 1/2 taza de caldo de pollo
2 cdas. de aceite
Sal al gusto
2 pechugas de pollo enteras, de unas 12 oz cada una, cocinadas y desmenuzadas
1 cebolla cortada en rebanadas
1 taza de queso feta desmenuzado
1/2 taza de crema espesa
3 ramitas de cilantro cortado finamente
how to make it:
1. Asa los chiles, sácales las semillas y las membranas, y remójalos 20 minutos en agua tibia. Asa los jitomates y pélalos. Asa el cuarto de cebolla y el ajo.
2. Escurre los chiles y ponlos en una licuadora. Añade los jitomates, la cebolla, el ajo, la mejorana y el caldo de pollo. Haz un puré cremoso.
3. Calienta el aceite en una sartén, añade el puré y cocina 10 minutos a fuego lento. Añade sal al gusto.
4. Moja cada tortilla en la salsa y pásalas a un plato. Pon una porción de pollo en cada tortilla y enróllalas. Pon las enchiladas en un plato semi extendido y cúbrelas con el resto de la salsa y la cebolla picada. Espolvorea el queso. Si lo deseas, puedes agregar una capa de crema con cilantro picadito.
Otherrecipesyou might like